John Plays with Red Hot Chili Peppers for the First Time since 2007
John Frusciante doing the Give it Away riff in 2020? And how about jamming with Dave Navarro? This isn't a dream!
The classic line-up of the Red Hot Chili Peppers albeit sans Chad Smith who was busy promoting his art, played together yesterday, February 08th. The occasion was the memorial held for Andrew Burkle, the son of billionaire Ronald Burkle, who passed away January 07th. Many other entertainment such as Perry Farrell, Dave Navarro, Gisele Bündchen, Diddy, Arsenio Hall, Chris Rock, Angelo Moore, Tommy Shaw and Tom Brady were present. The event was organised by the Tony Hawk Foundation, which helps build free skate parks for at-risk youth accross the United States of America. The late Andrew Burkle contributed a lot to the foundation.
Thank you to the Burkle family for including us in your celebration of Andrew. His passion for life was contagious & his spirit lives on through our work at @THF.
A good example of Andrew's magnetism was on display when this all-star lineup came together to play Iggy Pop #acbrox pic.twitter.com/8F3WjGT8K7

— Tony Hawk (@tonyhawk) February 9, 2020
For this occasion, RHCP's stand-in drummer was Jane Addiction's very own Stephen Perkins. And he did a great job.
The most interesting moment? John jamming with his successor and second of three predecessors – Dave Navarro. This occurred during Jane's Addiction's own mini-set: the virtuosos jammed to the band's 1988 track, Mountain Song.
Instagram videos are resurfacing of the band performing the timeless Give it Away and a cover of The Stooges' I Wanna be Your Dog, with John standing on his old place on the right side, wearing the blue slacks and a flannel shirt over a long sleeve, just like he was never gone at all. The third song performed was a cover of Gang of Four's Not Great Men, presumably done as a tribute to the band's leader and former RHCP producer, Andy Gill, who passed away a couple of days ago.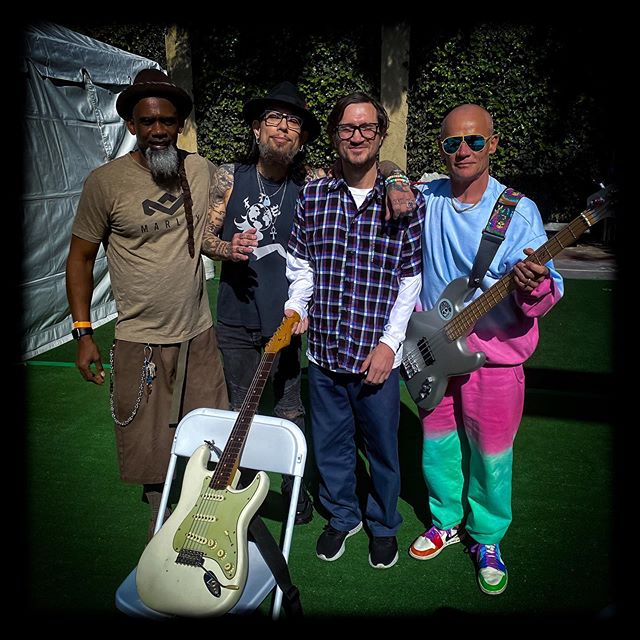 Seen in the background on John's side of the stage was Henry Trejo, Omar Rodriguez-Lopez's tech in The Mars Volta. People are speculating that he could be the new "guy of John", thus replacing the fan-favourite Dave Lee.
The chemistry is still there!
This marks John's first time playing live with the Chilis since the Leeds Festival on August 26th, 2007, the very last date of the Intergalactic Tour.
Since many people are practicing reposting others' clips and images over and over, some of these may not be the original posts. Sorry about that.
In some cases, you will have to press the dots to see the RHCP as instagram allows users to upload multiple media at once.
The lady who can be seen on the left in one of the videos has professional equipment, among it a 70-200 L lens – let's hope that the photos she took will surface soon!
There's stuff on Twitter, too!
Frusciante x Navarro (Happiness!) ??????????? #rhcp #redhotchilipeppers #johnfrusciante #jf #davenavarro pic.twitter.com/g0GbuirL3F

— Ezra (@ezraj0shua) February 9, 2020
We will keep you updated!
* Hat tips: Wonderful Rebecca of The Chili Source, one of our sister sites – she saw the first GITA video clip and pinged me on Messenger immediately. And Navid Koochek on Twitter for letting me know about Tony Hawk's post.