The list of full albums John did with other musicians. Bands are listed alphabetically, while the output in each section remains in descending order (newest first). This list does not include one-off guest appearances, neither does it include numerous records with the Mars Volta, Black Knights and – duh – Red Hot Chili Peppers.
Please, note that you cannot click through on any of the releases at this time. This option will be available again, soon.
Ataxia
Ataxia were John Frusciante (vocals, guitar), Joe Lally (vocals, bass) and Josh Klinghoffer (vocals, drums).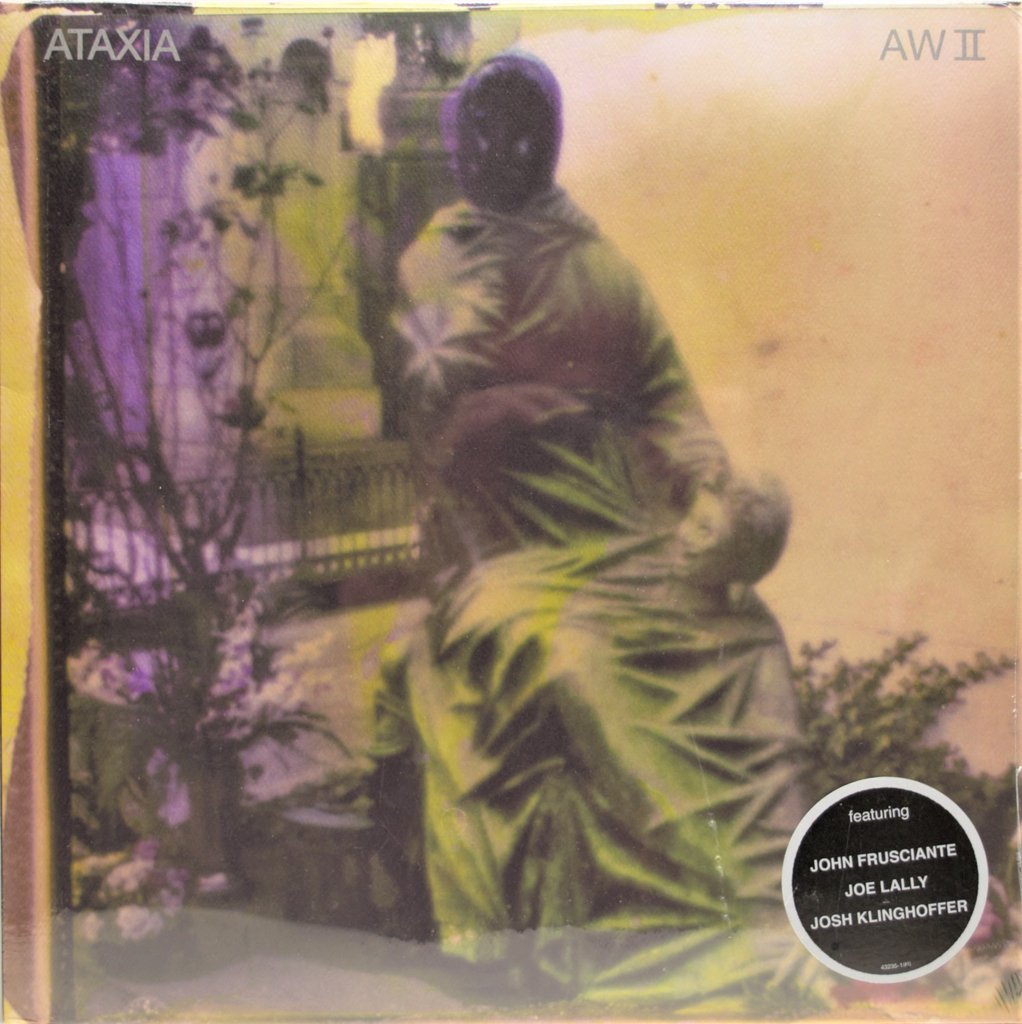 Ataxia – AWII
Ataxia's second album, containing the remaining sessions from February 2004, with John singing on four of the five tracks and, of course, producing everything and playing some great guitar. One year after it leaked, it was released in quiet and went almost unnoticed.
Ataxia – Automatic Writing
Ataxia – as in John and his band mates Josh Klinghoffer and Joe Lally explore new horizons – was a band for only two weeks in February 2004; which did not stop them from performing twice and recording two albums. The first is more widely known, a nod to early Public Image Ltd.
John Frusciante and Josh Klinghoffer
The two have worked on many albums together, but this is the only album they released with both of their names on the cover.
Kimono Kult
Kimono Kult were Teri Gender Bender, Omar Rodriguez-Lopez, Nicole Turley, John Frusciante, Dante White and Laena Geronimo.
Omar Rodriguez-Lopez and John Frusciante
John and Omar have been friends and frequent collaborators since at least 2002, but these are the only things made public from their recording sessions other than the Mars Volta ones so far.
Omar Rodriguez-Lopez Quartet
John was a member in one of the incarnations of the ORL quartet.
Speed Dealer Moms
Speed Dealer Moms are Aaron Funk, John Frusciante and -occasionally – Chris McDonald.
Swahili Blonde
Swahili Blonde is Nicole Turley's moniker; but until her 2015 release, Deities In Decline and subsequent divorce with John, she worked with lots of contributors and this was treated as a band. John was a regular on guitar, they were labelled a duet in very early stages of the project, probably as a media stunt.